The following are the Pictures of our Friends & Customers,
who visited us at the Tucson Show 2008
Scroll the page down to see them all !!!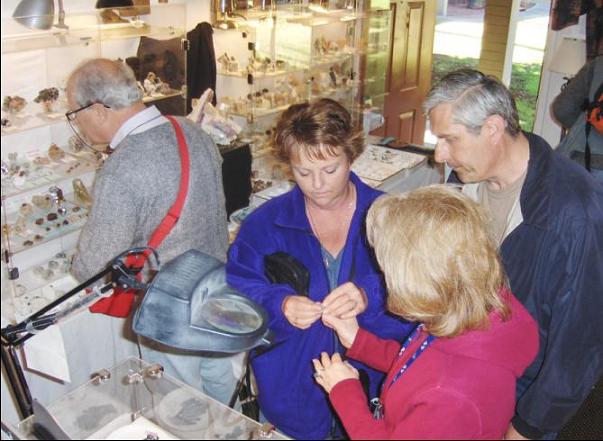 Cindy & Jim Silliman showing an object of interest to Judy Rome of Bumblebeads, Texas.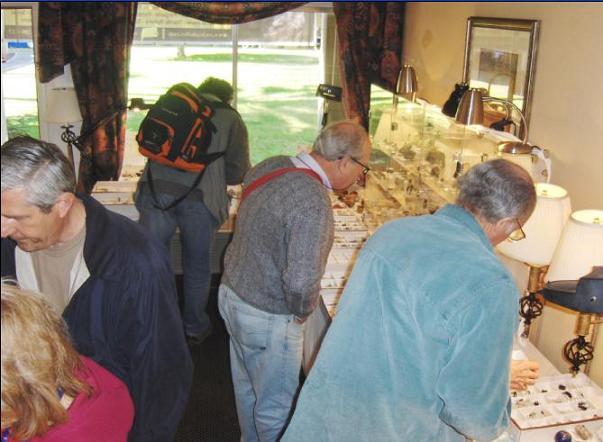 Customers appreciating a variety of Gems & Minerals.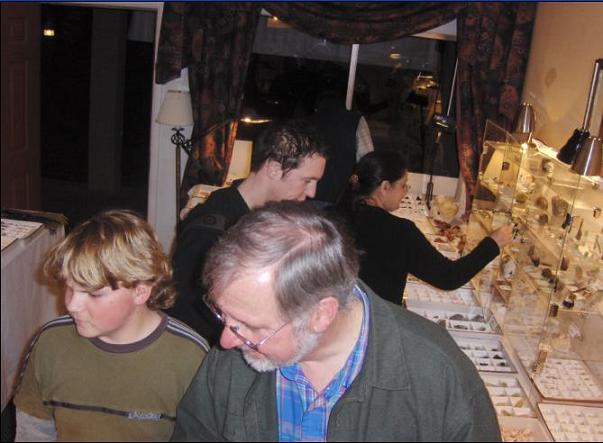 An avid collector of Florescent Minerals along with Stephen Linham who is a member of San Diego Mineral Society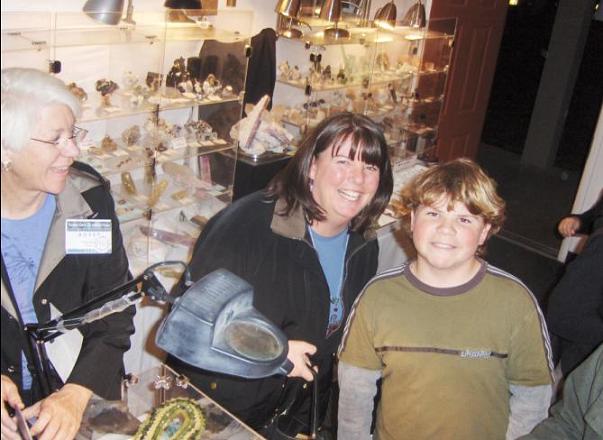 Stephen Linham with his mom Mary & her friend.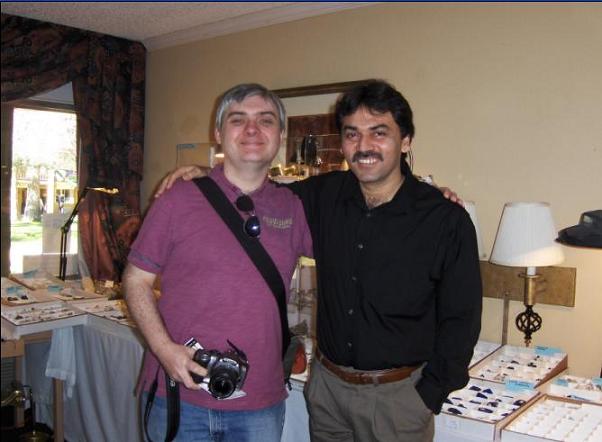 Julian Ralph of UK with Arif. Julian is the brain child behind the highly respected, very informative & extremely popular mineral database website "The Mindat". Check it out at http://www.mindat.org We had the privilege of having our minerals listed on his Mindat News for the Tucson Show 2008.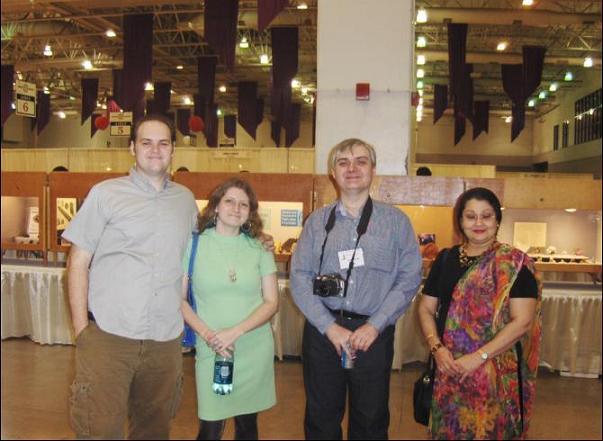 Left to Right: Jason & Brandi of "The-Vug.com" Julian Ralph of "Mindat.org" & Aisha at the Tucson Gem & Mineral Society Show at the Convention Center.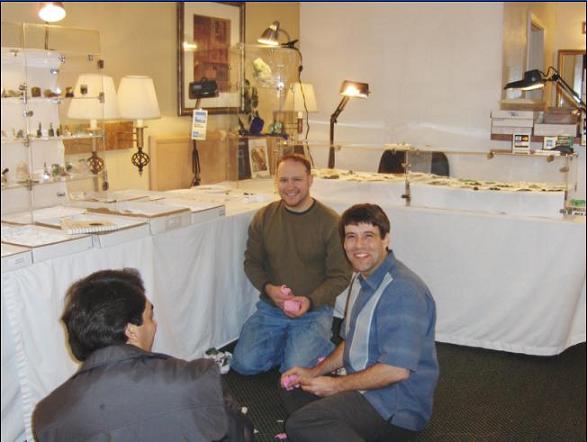 Joe George of Cascade Scepters with a friend unwrapping Minerals Pakistani (i.e. sitting on the floor) style with Arif.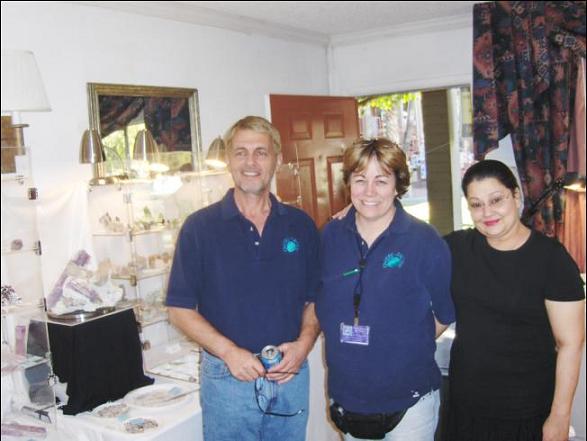 Jim Brandon & Sandra Edwards of the Spheres Factor with Aisha.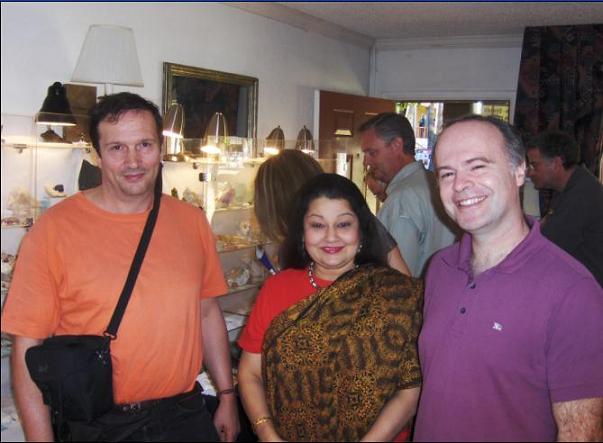 From left to right: Pierre Jacques Chiappero former curator in chief , Aisha & François Farges current curator in chief of the Natural History Museum of Paris, France.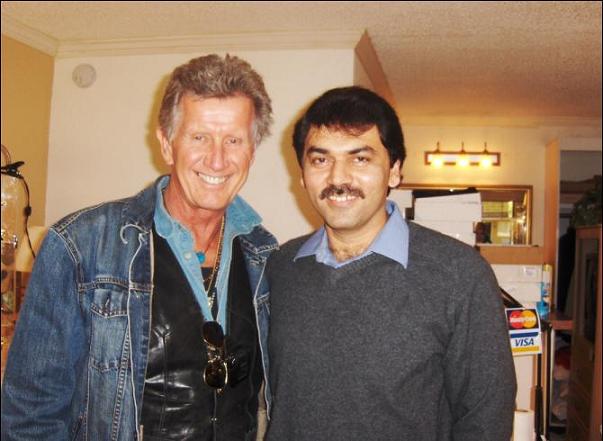 Forrest Fyre aka Tom Forrest Broadley a famous Hollywood USA Actor & Gem & Mineral dealer with Arif.
Forest's recent movie "310 to Yuma" was a big hit. He played the role of "Walter Boles" in the movie. He was the one who punched Russell Crow in the tunnel scene. Lookout for him in the future upcoming movie hits. Stop by & checkout his spectacular Gallery "Earthfire Gems" in downtown Santa Fe New Mexico, USA.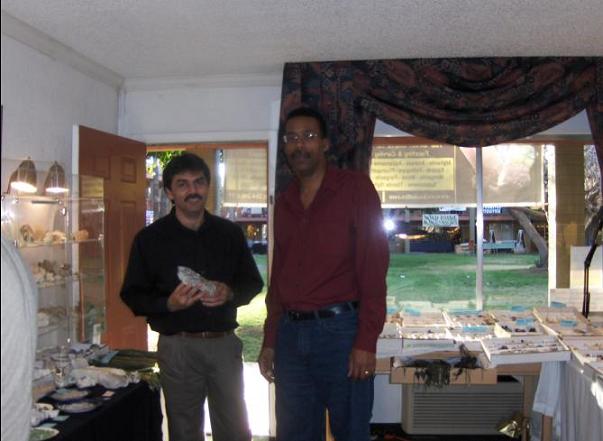 Dr. Michael Wise of the Smithsonian Institution, Washington D.C. USA. We at Rocksaholics have had the honor of selling our minerals to this prestigious organization.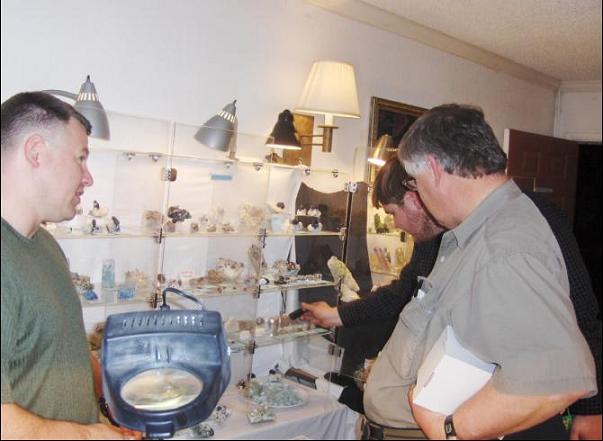 Lt. Colonel Jerry Savage of Indiana, USA one of the most informed collectors of fine minerals, discussing the composition of an interesting mineral with Dr. Donald Doel & Donald Doel Jr. of Canada. Doel Sr. & Jr. are collectors of rare minerals.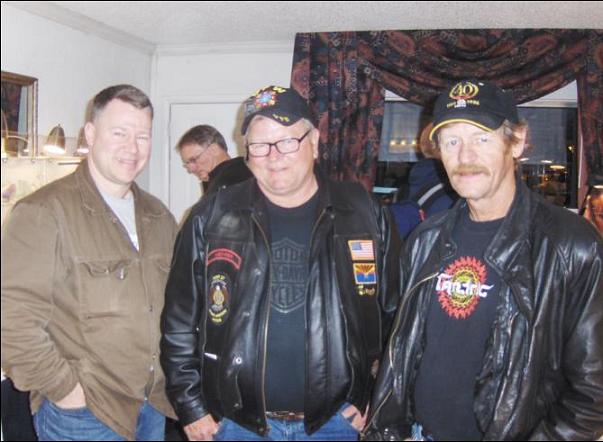 Lt. Colonel Jerry Savage with two of his maternal uncles whom he brought over for a visit & an introduction to our collection of gem & minerals.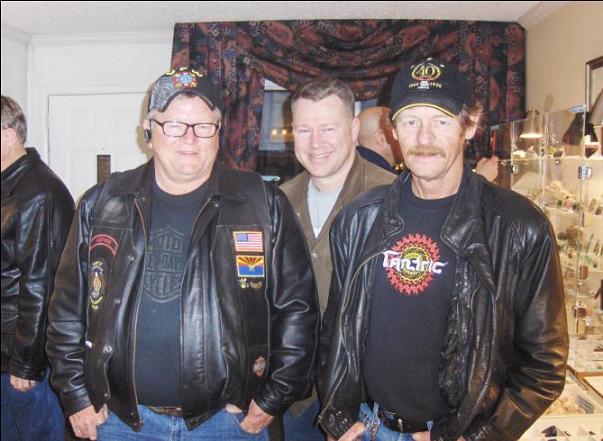 Here is another cool picture of Jerry & his uncles.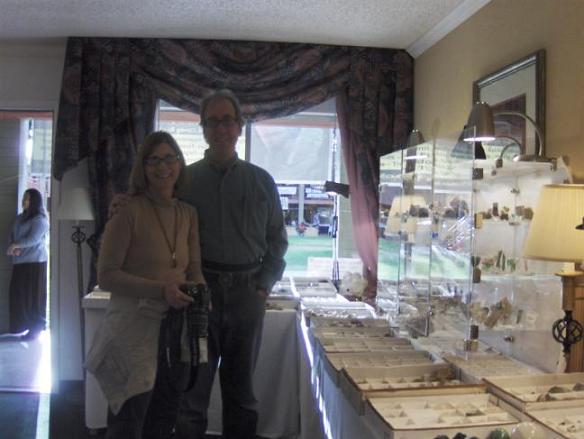 Dug Biggs of College Station Texas & his charming lady, stopped by to say hi.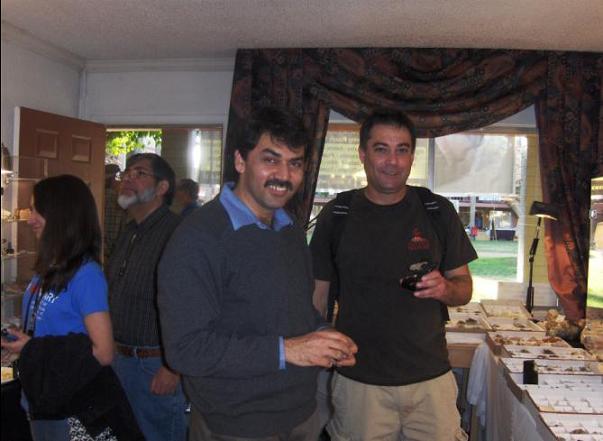 Marc Silva of Northern California with Arif.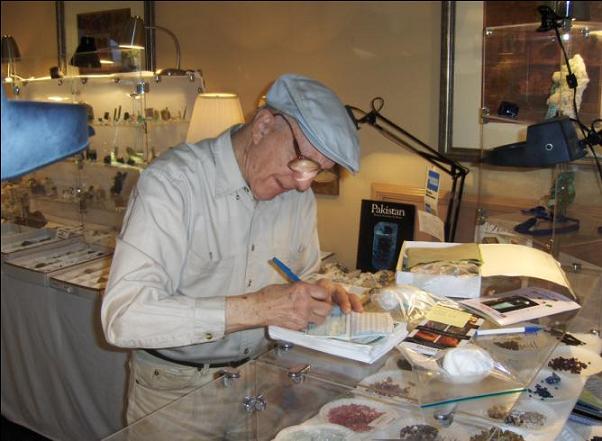 William J. O'Neal of New York USA. Bill is an avid collector of rare minerals & he is a
walking talking Encyclopedia on the subject.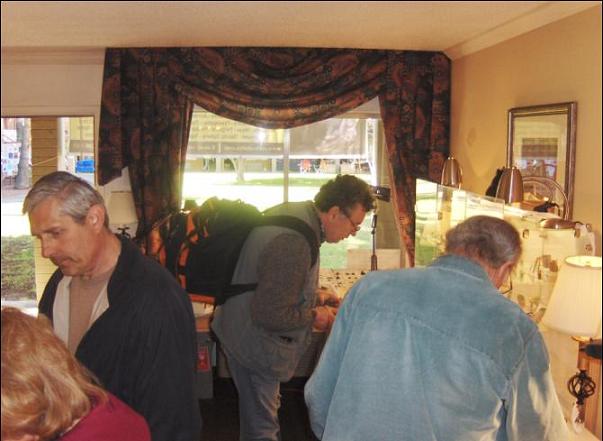 Customers busy looking at Minerals..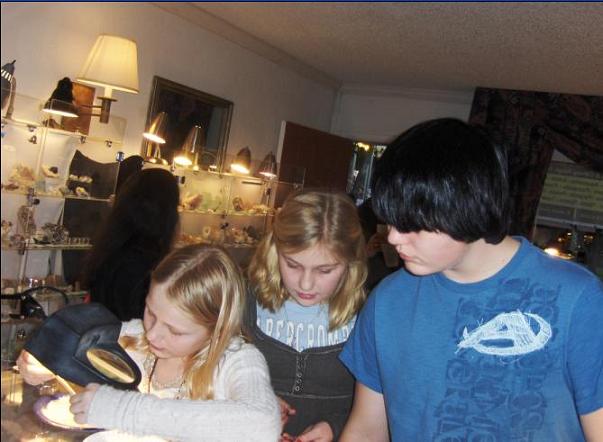 A group of future Gem & Mineral Collectors.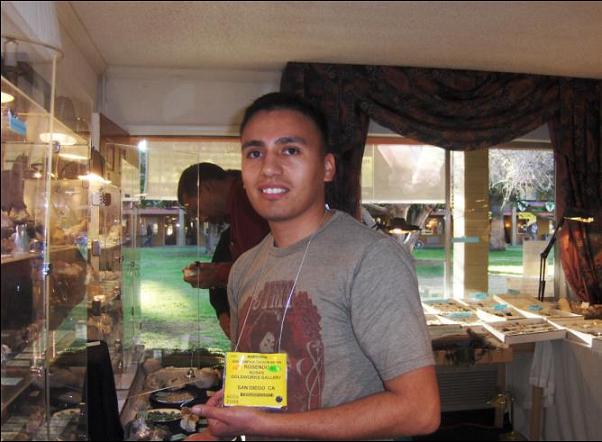 Rosendo of San Diego stopped by to pickup some rough gem material for his lapidary work.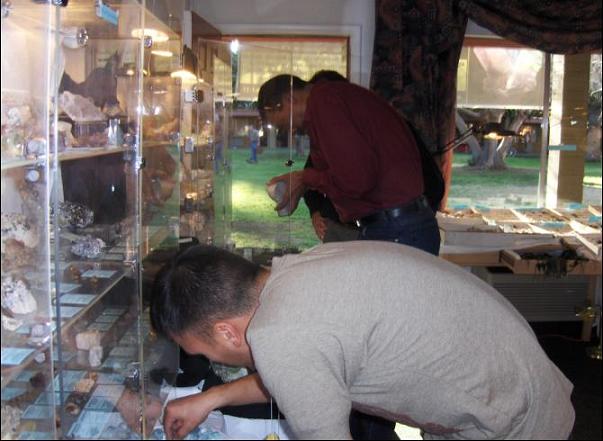 Rosendo & Dr. Michael Wise busy observing Mineral Specimens.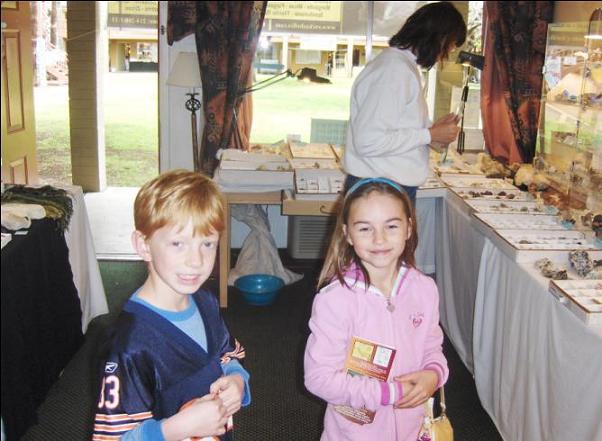 Our two little customers & future mineral dealers & collectors.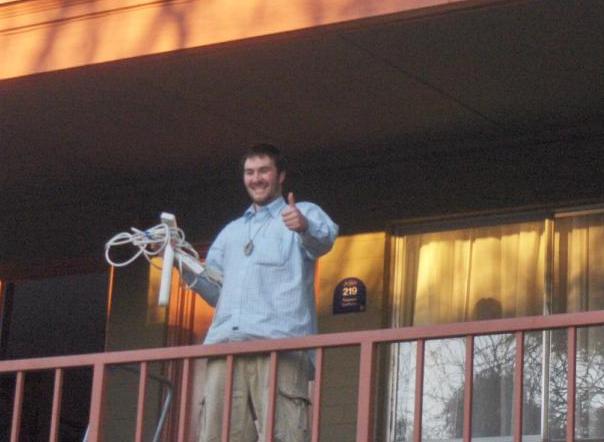 Thumbs up for a great end to another great year at Tucson 2008. The thumb belongs to Sean Smokewich.
Sean is a great Musician & Gem Crystal wire wrapping artist.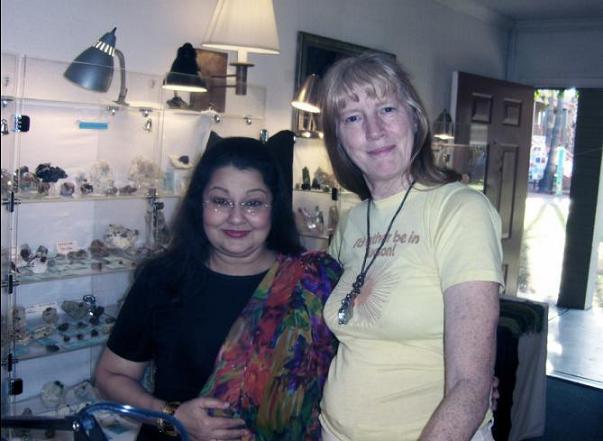 Another great collector & dealer of Florescent minerals with Aisha.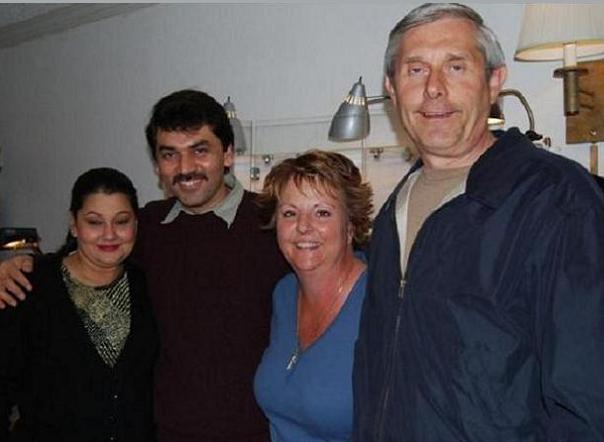 Aisha & Arif with Cindy & Jim Silliman. Jim is a diamond cutter & they both are adventure travelers.